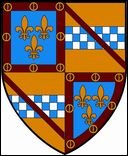 "The Auld Alliance is a major subject of the History of France and of Scotland.
This unique relation in the history of nations was better worth than the forgetting from the history books and the disappearance from the French collective memory.

The Auld Alliance has been learnt until the end of the 19th Century, but because political circumstances disappeared from the school programmes; The Entente Cordiale with England was probably responsible for that, and political reasons buried at least 6 centuries of alliance.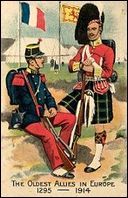 The Scots guards of the King of France and the Scots soldiers come over for fighting on the French ground were relegated to mercenaries position, and Scotland was regarded as an English province, competitor in the 6 Nations Tournament..
Fortunatly it remained ''Quentin Durward'' of Walter Scott and ''Les Ecossais en France, les Français en Ecosse'' de Xavier Francisque-Michel to remind us this ancestral alliance.
In Scotland the topic is more in mind of Scots, but nevertheless has started to disappear..
However centuries of cooperation cannot completely disappear, and one can observe, and often unconscientiously that the Scots love France and the French and that the French have a positive a-priori for everything is Scottish.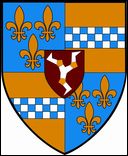 Starting from this point, the founding of Auld Alliance, le lien Franco-Ecossais was an obligation to compensate this historical and cultural lack and to launch again this old alliance.
Although our actions are focused on history facts, folklore, fun and future are not missing from our concerns..
Auld Alliance, le lien Franco-Ecossais is a ground association, young and operational, and which targets to give back to the Auld Alliance its nobility and its due position in France, in Scotland and in the whole world."
Patrick Gilles
Président